Once the medieval capital of Ireland, Kilkenny City has a rich heritage, visible through its narrow streetscapes, historical buildings and landmarks. The city's origins predate existing medieval landmarks.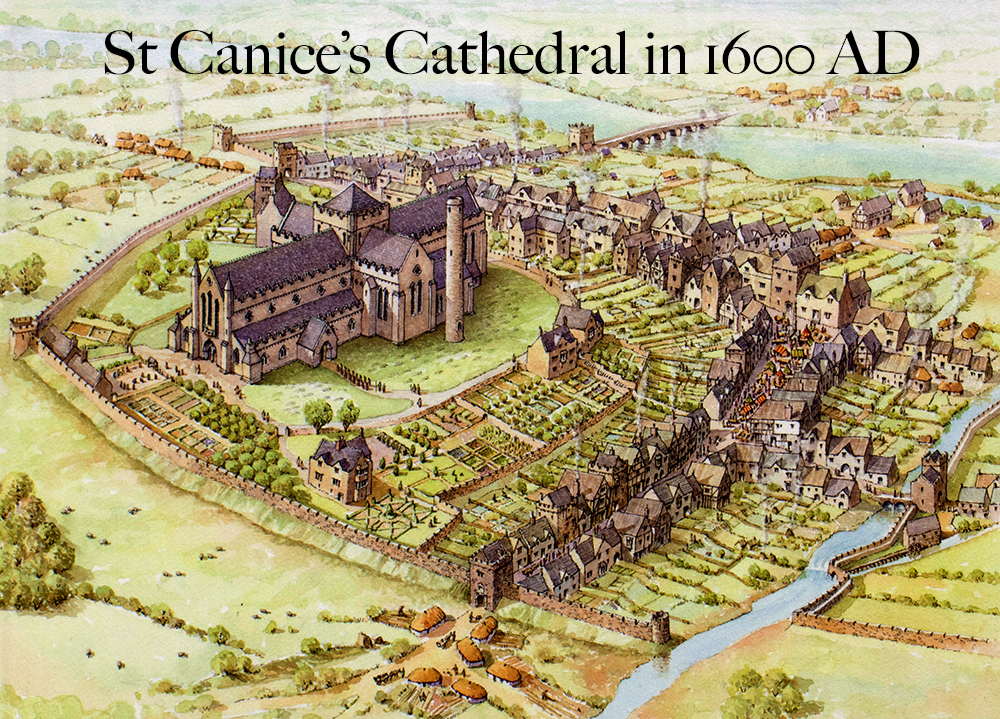 The Cathedral was built in the 13th century and is a showcase to ornate stonemasonry skills. Saint Canice (who gives Kilkenny its name) founded a monastic settlement here in the 6th century. The 9th century round tower is a remaining monastic landmark (and which you can climb).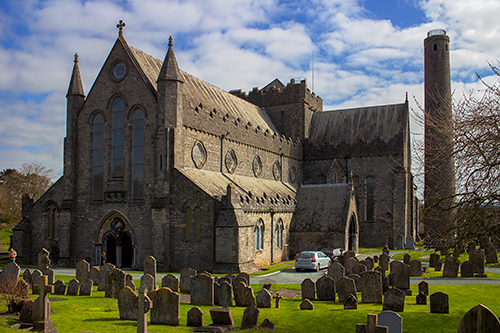 The Black Abbey was established in 1225 as one of the first houses of the Dominican Order in Ireland. Among the highlights are sepulchral slabs, stone carvings and sculptures. Also of note is the great rosary window. Today, visitors can view the buildings, which date from the 13th to the 16th Century.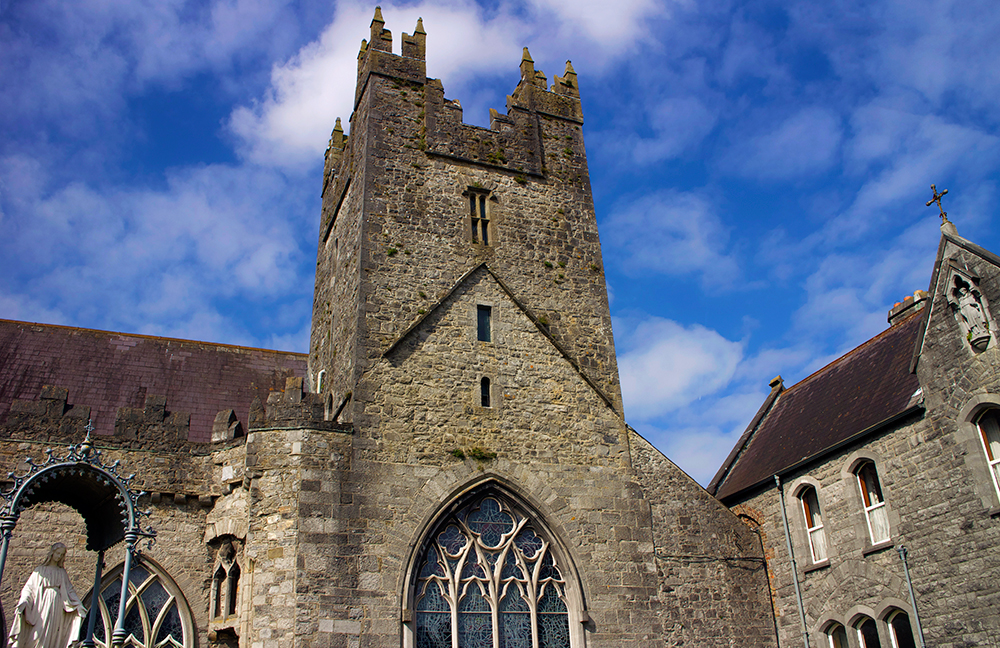 Strongbow, the legendary Norman invader, built a fort in the 12thc on the site where Kilkenny Castle stands today. William Marshall (Strongbow's son-in-law), fortified the city walls, built a stone castle on the site and consolidated the Norman's position of power in the city. See drone footage here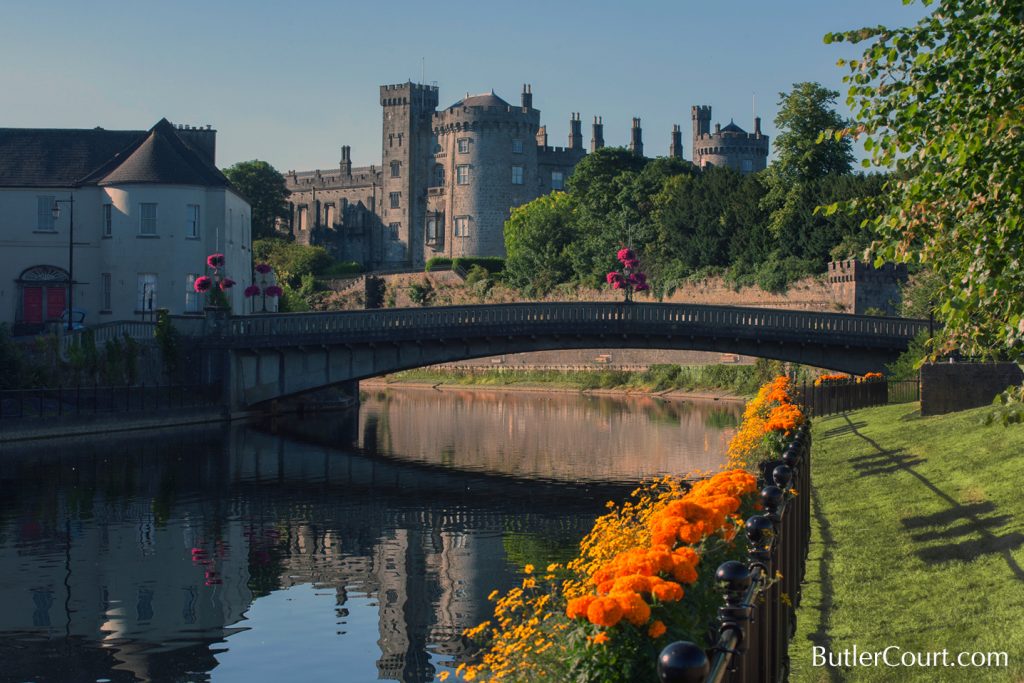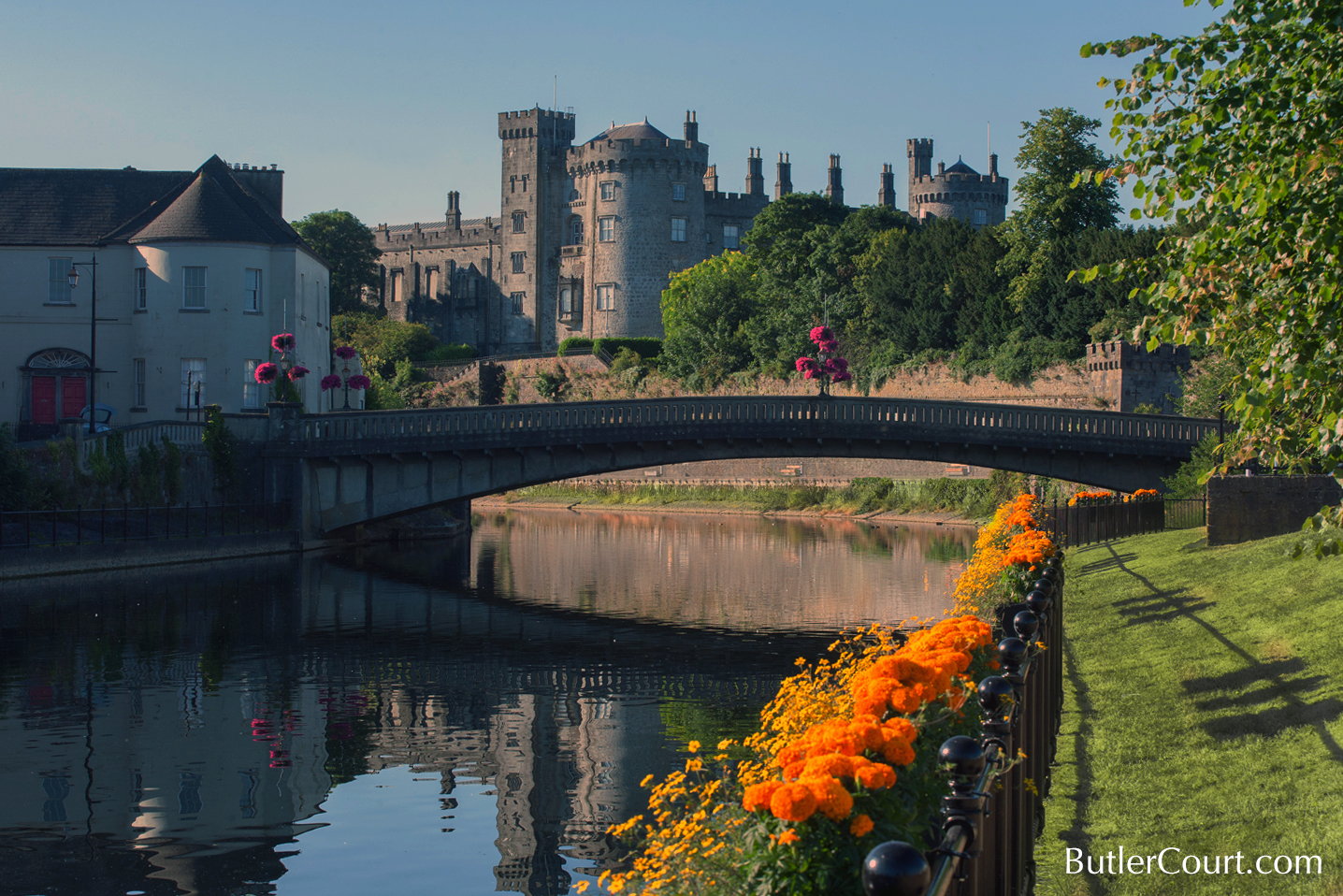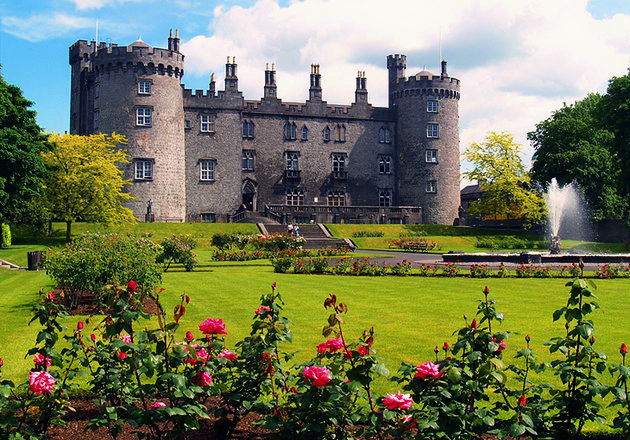 See Medieval Mile location map here
Today, the city prides itself on its lively culture and entertainment scene with a range of live music and theatre events available throughout the city's pubs and music venues.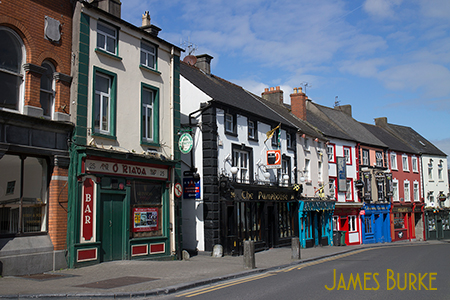 Kilkenny Festivals: An array of festivals and event programmes are hosted annually, including the renowned Kilkenny Arts Festival (August) which features a variety of classical music events, art exhibitions, literary readings, workshops, jazz & folk sessions. Other festivals include Smithwick's Kilkenny Roots Festival – Music Festival (May); Kilkenny Cat Laughs – Comedy Festival (June); International Gospel Choir Festival (Aug/Sept); Savour Food Festival (Oct) and Kilkenomics Festival (Nov). All events subject to Covid guidelines.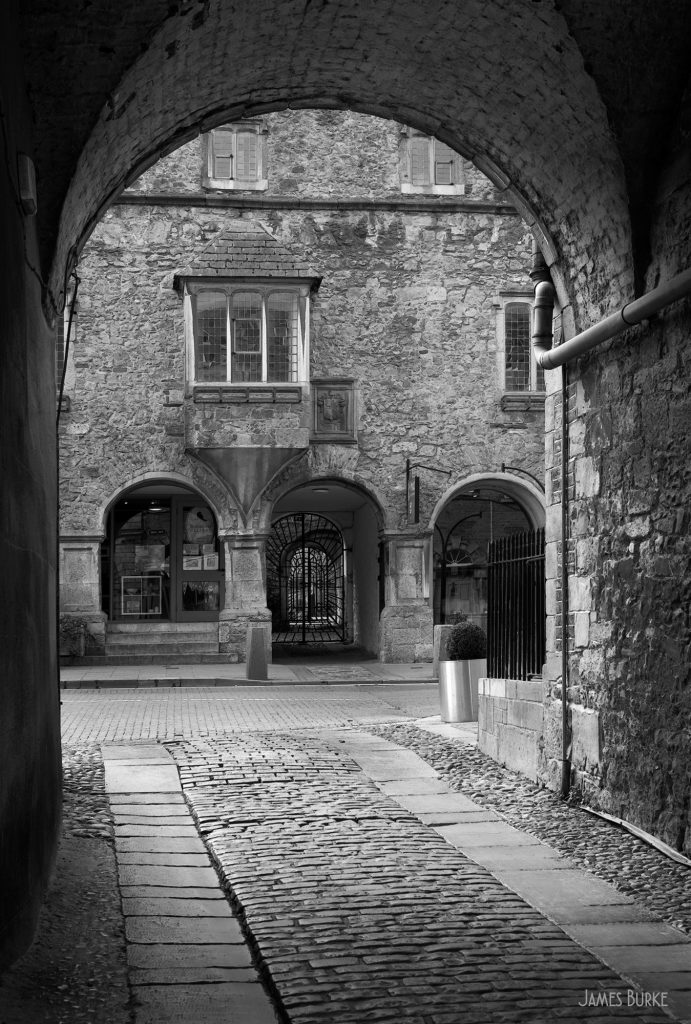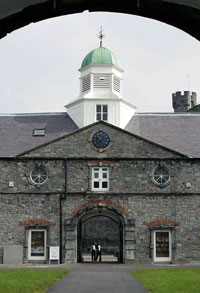 Kilkenny is also renowned as a world class craft centre, which has its origins in the Design workshops of the late 1960s', the story of which can be explored in the Castle Yard site, opposite the Castle.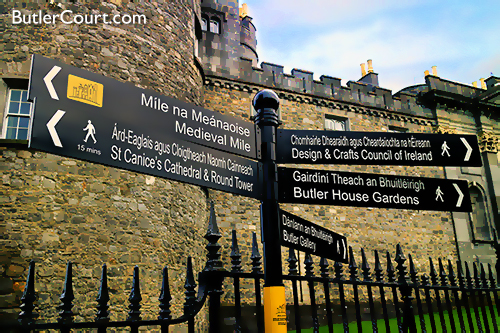 One of the best and unique features of Kilkenny City is its compactness, allowing you explore everything it has to offer on foot. Just be sure to allow yourself enough time to experience it all. Enjoy our city!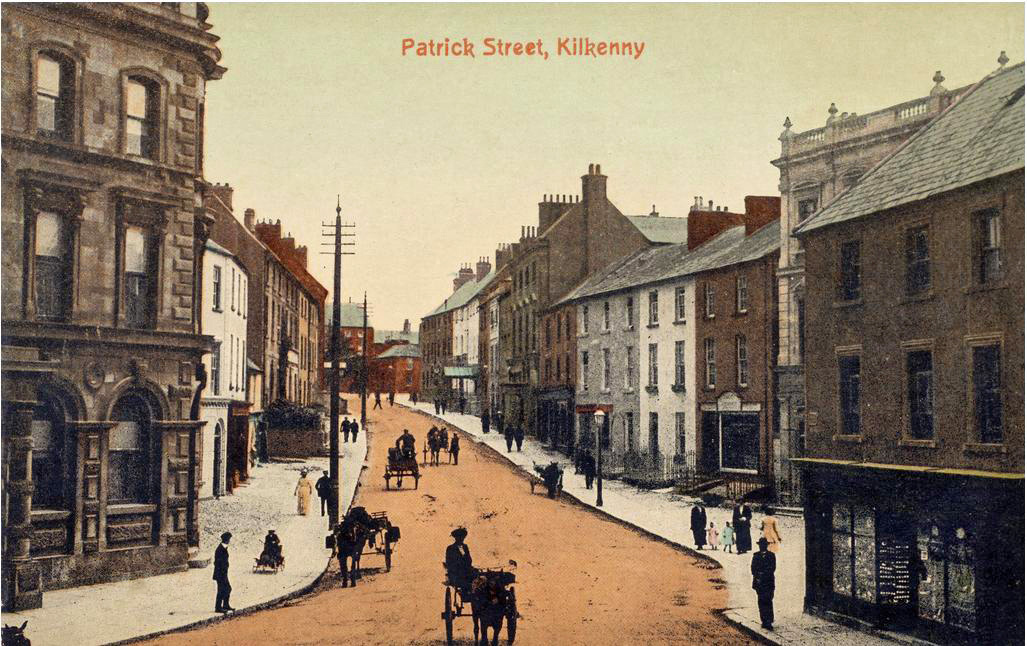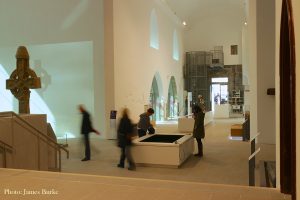 Kilkenny's new Medieval Mile Museum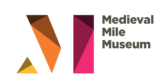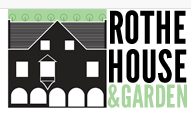 Nestled in the centre of Ireland's Medieval Mile, Rothe House and Garden is one of Kilkenny's hidden gems. Built between 1594 and 1610, this was the home of the renowned merchant, landowner and Mayor of Kilkenny City, John Rothe Fitz Piers. Rothe House is the only remaining example of it's type in Ireland and the last Burgage Plot & garden to survive within the city walls.
---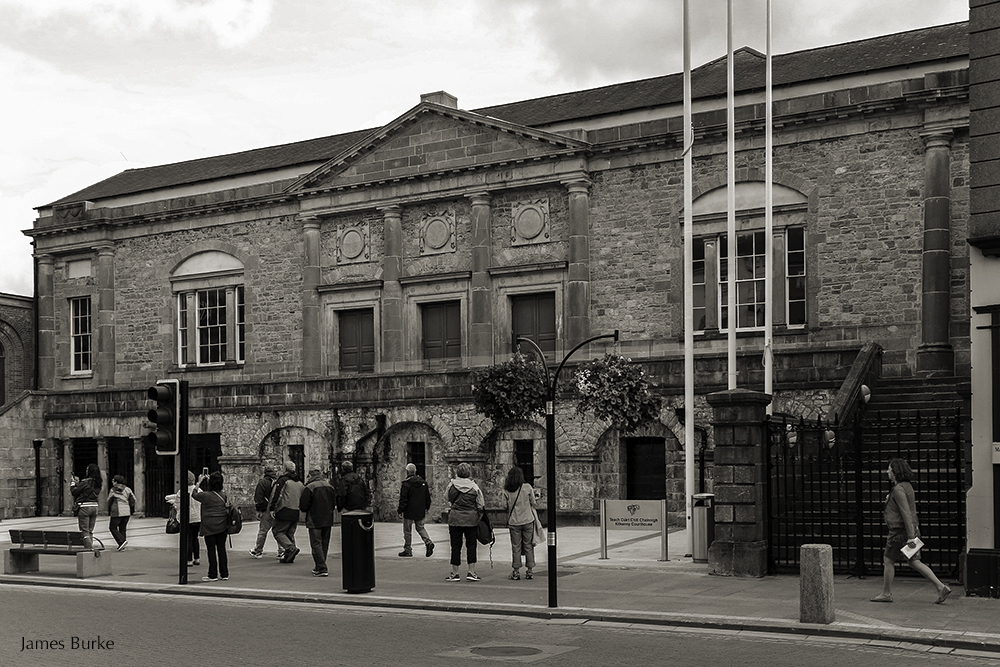 The courthouse is in the historical centre of the town. It was originally built over, and incorporated the remains of, a sixteenth century castle and an eighteenth century Gaol. It was converted to a courthouse in c.1792 and remodelled in c.1828 and extended to the rear in c.1870.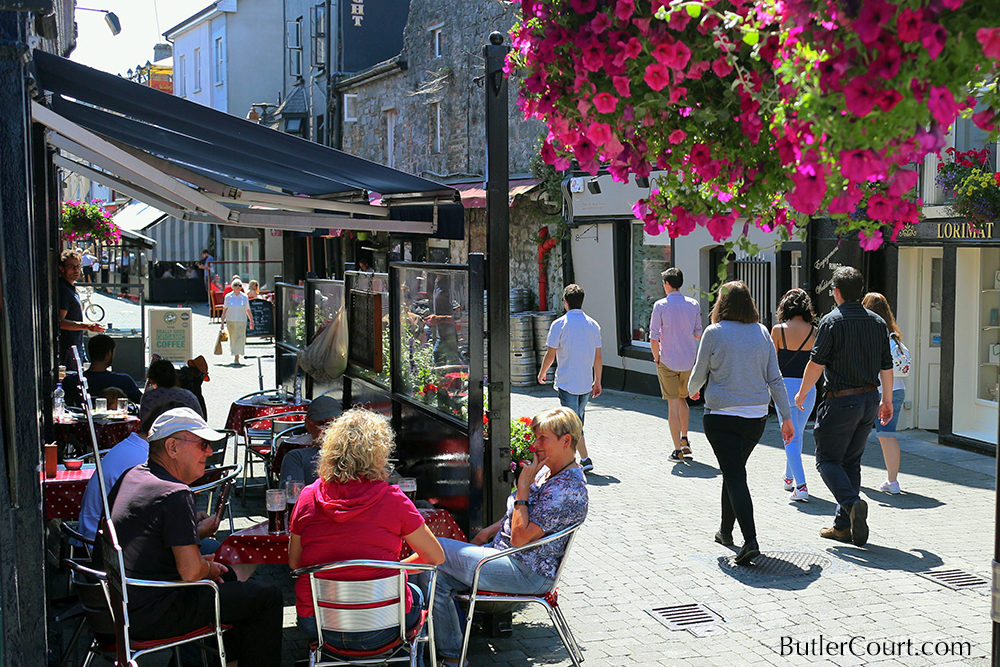 Recommended Kilkenny City places to visit. (More information is available at Butler Court) Linked websites are underlined.
The Black Abbey (1225)
Rothe House (1594) – Original merchant's house & gardens, open to visitors.
Shee Alms House (1582)
The Tholsel (1761)
The Old Courthouse (Grace's castle)
Medieval 'slips' (alleyways) between High Street / Kieran Street.
Smithwicks Experience Brewery Tour (temporarily closed).
Butler Gallery (behind riverside library).
Medieval Mile Museum  – (great for rainy days).
St Canice's Cathedral – 800 years old.

Read more at Historic Kilkenny website
---
County Kilkenny: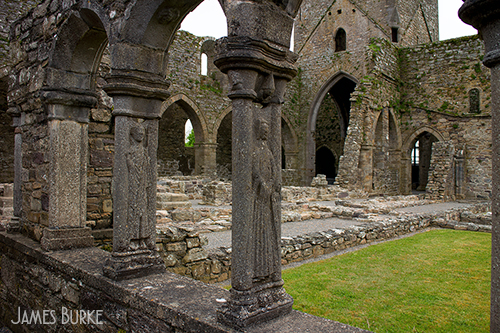 Jerpoint Abbey is a ruined Cistercian abbey, founded in the second half of the 12th century, near Thomastown, County Kilkenny, Ireland. It is noted for it's stone carvings and has a good visitor centre and seasonal guided tours. From Kilkenny take the R700 south to Thomastown. Then cross the bridge and take the R 448 south. Jerpoint Abbey is 2 kilometres on your left. GPS: 52.510898, -7.157764
A few more places to visit:
Jerpoint Abbey – 12th C – see above
Kilfane Church & crusader effigy
Kells Priory – Extensive Monastic site, founded in 1193AD
The Edmund Rice House, Callan (traditional thatched farmhouse)
Dunmore Caves – 10km from Kilkenny City
Duiske Abbey, Graiguenamanagh. Beautifully restored 13th-century Cistercian monastery in this picturesque riverside town. Cushendale Woolen Mills nearby. 30mins drive from Kilkenny on the R700 Bennetsbridge Road.
Bennettsbridge – 7km from Kilkenny City. Nicholas Mosse pottery and Moth to a Flame candles, both located beside the river.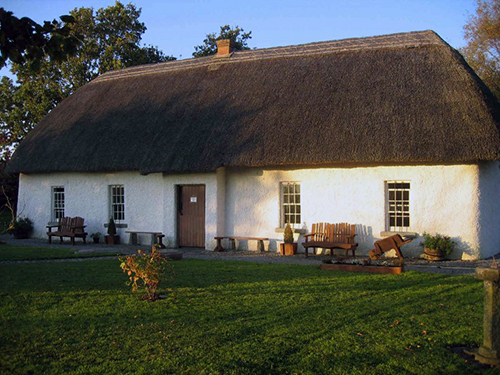 ---
Drone video, filmed at the amazing Kells Priory in County Kilkenny, built in 1193 AD. Defensive structures were added in the turbulent 15th Century.
Kilkenny is home to Oscar-winning animation studio Cartoon Saloon. Here's some local scenes, providing inspiration for their animators:
Kilkenny is noted for the concentration of craft makers. Here are just a few worth visiting. Kilkenny Craft Trail linked here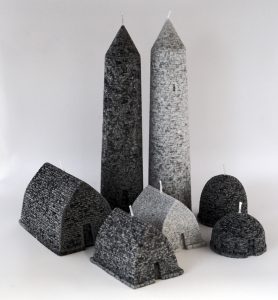 Jerpoint Glass (glassblowers, with weekday demonstrations)
Moth to a Flame – candle makers in Bennetsbridge (beside the bridge). Wonderful handmade candles which make perfect Irish gifts (see photo).
Nicholas Mosse (world-famous Irish tableware). A lovely place to visit and buy gifts. Also in Bennetsbridge, County Kilkenny.
See Nicholas Mosse video below: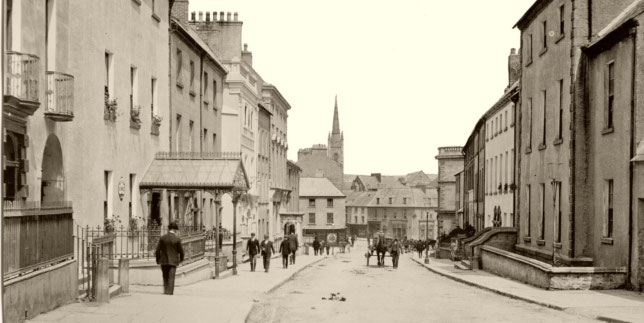 ---
Local craftspeople. Lovely video by Kilkenny goldsmith Chris Hertzel: